We're delighted to announce our NHS CHECK Mental Health Conference, The impact of COVID on the mental health of NHS staff: Impact, Inequality and Moral Injury.
The Great Hall (Strand), King's College London
5th December 2022, 09:30-17:00
The event
We will be discussing NHS CHECK findings as well as other comparative studies, hear from the NHS themselves on the impact the research has had, and invite conversation with industry leaders and influencers. Key topics include:
The mental health impact on the NHS

Inequalities and discrimination

Investigating moral Injury

PhD & early career showcasing

Networking
Confirmed Speakers, with many more yet to confirm
Professor Dame Anne-Marie Rafferty, Professor of Nursing Policy

Dr Aime

e McKinnon, Oxford

Dr Cerisse Gunasinghe, TIDES

Clive Kay, CEO King's College Hospital

Dr. Danielle Lamb, UCL, NHS CHECK

Dr Hester Mannion, South London & Maudsley NHS Trust

Dr Jacqui Dyer, MBE, President Mental Health Foundation

Jide Ashimi, NHS Trust

Dr Jo Billings, UCL

Dr. Jo Daniels, University of Bath

Dr. Lorraine Gordon, 

South London & Maudsley NHS Trust

Professor Manish Pareek, UK REACH

Professor Neil Greenberg, NHS CHECK

Dr Kevin Fong, Broadcaster

Dr. Rebecca Rhead, TIDES

Dr Sam Gnanapragasam, 

South London & Maudsley NHS Trust

Sir Simon Wessely, NHS CHECK, Interim Executive Dean, Institute of Psychiatry, Psychology & Neuroscience

Siobhan Hegarty, NHS CHECK

Professor Stephani Hatch, TIDES

Dr Vishal Bhavsar, King's College London

Tickets offer access to all of the talks throughout the day as well as refreshments, lunch and networking drinks post event
Early bird ticket £79 before October 18th
£99 per ticket thereafter
Students £50
We are offering participating NHSCHECK Trust and funders 1 free ticket, and for others in that organisation the early bird rate of £79 
Ticket Sales will close on 4th December
This event is not a profit making exercise. All ticket sales cover the cost of production, speaker travel, catering and expenses. If there is any money left over from the event, that will be re-invested straight back into the funding of NHS CHECK.  
We are delighted to announce the below agenda. As speakers are confirmed the agenda shall be updated.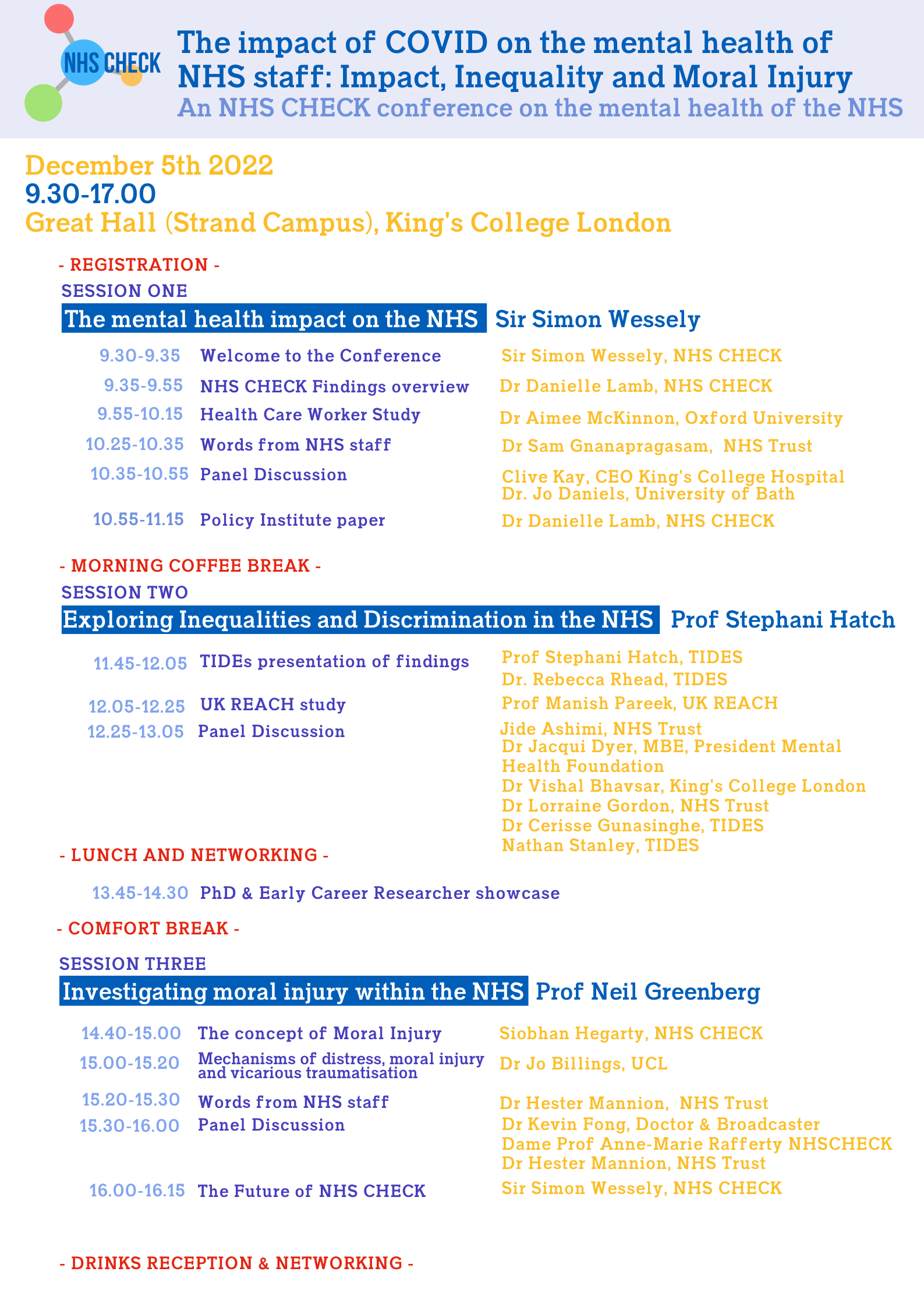 Three Minute Thesis
We are welcoming PhD students and Early Career researchers (self-defined) to showcase their work in poster format. All posters will be displayed at the event, with a prize awarded for best poster, judged by the NHS CHECK team.
In addition, there are 10 slots for poster presentations, where participants will have 3 minutes to present their work to our esteemed audience, panellists, and the NHS CHECK team, with a brief question slot after each presentation. Presentation slots will be allocated by the NHS CHECK team on the basis of the abstract submitted.
How it works
Submit your abstract in no more than 450 words to the NHS CHECK team through the below button, with subject title labelled 'Poster Competition' before 14th November. Abstracts should include the subheadings: Introduction; Methods; Results; Discussion; Conclusion. Note whether or not you wish to take part in the presentation competition as well.

Purchase your student ticket to the event

Posters are to be submitted by email in PDF format by 30th November. Participants will be responsible for printing and bringing their own poster to the event.

Those allocated presentation slots will be informed by email by [insert date].

The winner will receive a £50 voucher, with 1 x runners up voucher of £25