We're delighted to announce our 2023 NHS CHECK Mental Health Conference
Supporting the mental health of a vital asset: England's NHS workers
An NHS CHECK conference on how to support the mental health of the NHS
The Great Hall (Strand), King's College London, WC2R 2LS
4th December 2022, 09:15-17:00
We welcome you to join us at our annual conference investigating how we can best support the mental health of the NHS.
We will host workshops on moral injury, data sharing and communications, share NHS CHECK's latest data, hear from industry leaders and those who have lived through it.
 Key topics include:
The mental health impact on the NHS
Suicide & Self Harm
Long Covid
The use of self-screening tools
PhD & Early Career showcasing
Hear from those with lived experience
Workshops on Moral Injury intervention, Early Career Guidance, and how to Communicate study findings 
Networking
Current confirmed speakers and NHS CHECK members include Sir Simon Wessely, Professor Neil Greenberg, Prof Ira Madan, Prof Jo Billings and Dr Danielle Lamb.


Tickets offer access to workshops, refreshments, lunch and networking drinks post event
£50 per ticket
Ticket Sales will close on 2nd December
There are 3 ticket options allowing you to chose a workshop to attend before the talks begin, so please make your choice when purchasing your ticket.
*These will be sold on a first come first serve basis*
Day ticket with moral injury workshop – capacity 22
Day ticket with planning research outputs workshop – capacity 40
Day ticket with communications workshop – capacity 70
This event is not a profit making exercise. All ticket sales cover the cost of production, speaker travel, catering and expenses. If there is any money left over from the event, that will be re-invested straight back into the funding of NHS CHECK.  

We are delighted to announce the below agenda. As speakers are confirmed the agenda shall be updated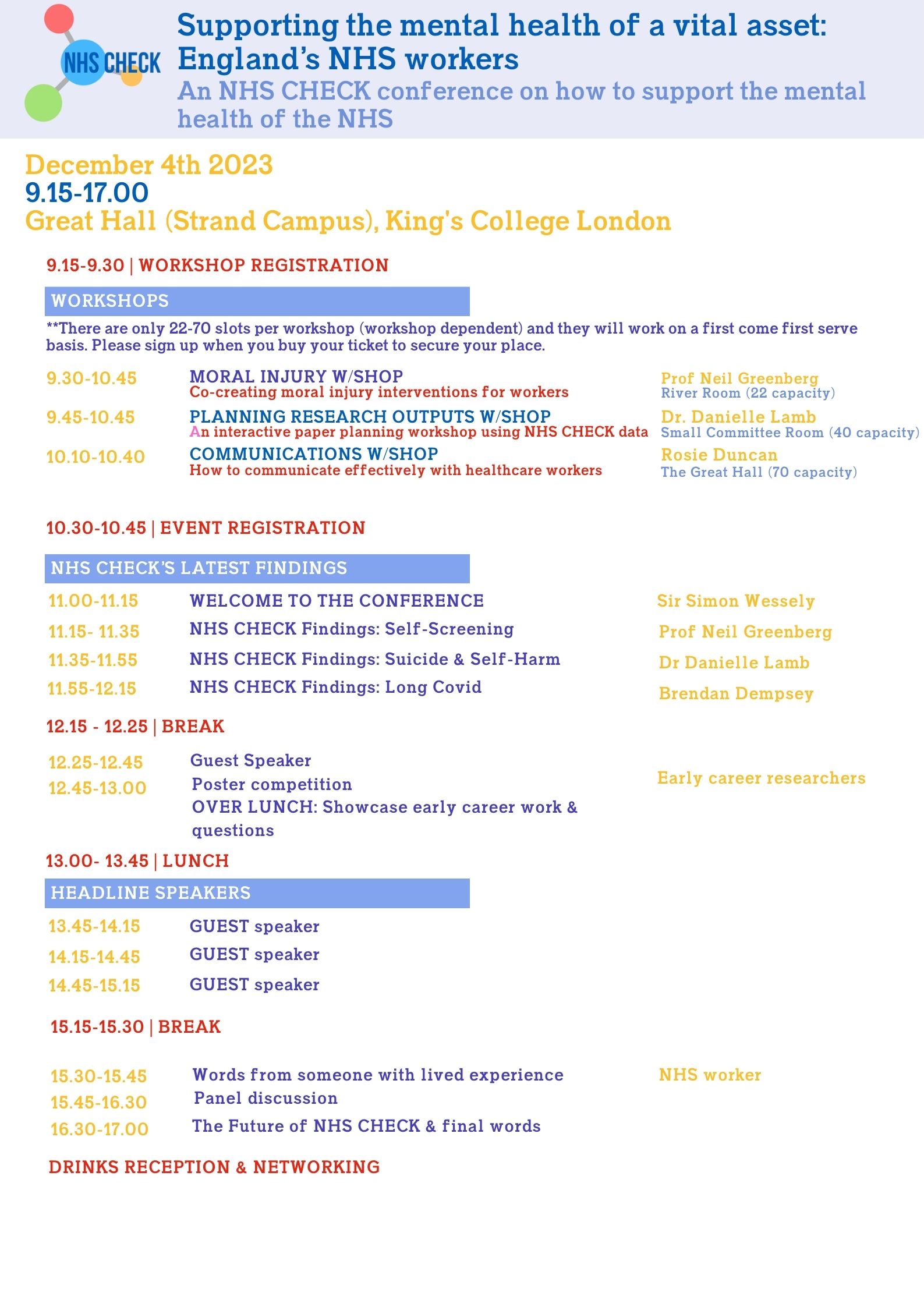 Five Minute Thesis
We are welcoming PhD students and Early Career researchers (self-defined) to showcase their work in poster format. All posters will be displayed at the event, with a prize awarded for best poster, judged by the NHS CHECK team.
There are 3 slots for poster presentations, where participants will have 5 minutes to present their work to our esteemed audience, panellists, and the NHS CHECK team, with a brief question slot after each presentation. Presentation slots will be allocated by the NHS CHECK team on the basis of the abstract submitted.
How it works
Submit your abstract in no more than 450 words to the NHS CHECK team through the below button, with subject title labelled 'Poster Competition' before 30th November. Abstracts should include the subheadings: Introduction; Methods; Results; Discussion; Conclusion. Note whether or not you wish to take part in the presentation competition as well.

Purchase your ticket to the event

Posters are to be submitted by email in PDF format by 30th November. Participants will be responsible for printing and bringing their own poster to the event.

Those allocated presentation slots will be informed by email after the application deadline.

The winner will receive a £50 voucher, with 1 x runners up voucher of £25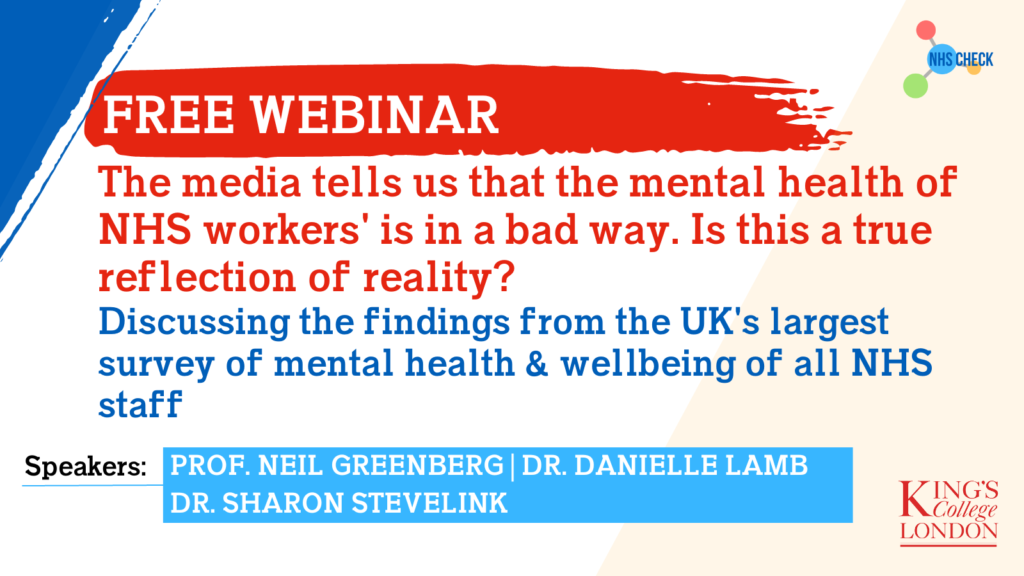 please find a transcript of the video here.
We always strive to feedback our findings to those who have taken part as well as anyone that they may impact. We know that research papers can take a while to read, so we like to summarise our findings so that they are accessible to as many as possible. 
This webinar starts with an introduction from Prof Neil Greenberg, followed by insights from Dr. Danielle Lamb about our latest paper on Suicide and Self-harm rates amongst NHS workers that has recently been picked up by the media. Dr. Sharon Stevelink will then talk about Common Mental Health Disorders and Post Traumatic Stress Disorder prevalence rates.  Prof Neil Greenberg will finish up by giving an overview on moral injury and help to field questions.
A snapshot of the questions that will be answered, and topics discussed is below:
Should we believe statements in the media that there is a tsunami of mental ill health among healthcare workers in England?
Suicidal thoughts and behaviours in healthcare workers: what does the latest research tell us?
Discussing the frequency and possible causes of moral injury for healthcare staff – and what might help
Please click on the speakers below to download their presentations